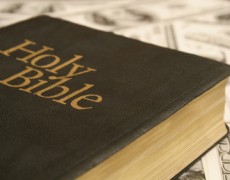 The Bible contains 2350 verses on money, and 16 of the 38 parables Jesus taught were about money. Money is a complicated subject in the Bible, and Jesus' words may actually surprise you about what he expected us to do with money. How do we interpret the parable of the talents and the apparent commandment that we make money for the kingdom?
What is our obligation to build kingdom wealth, and what are we to do with it? How much are we supposed to give, and to whom? We also tackle practical issues such as reducing debt, budgeting, savings and investment, as well as the evils of materialism and its effect on world poverty.
If you think Jesus' words on money are limited to the story of the Rich Young Ruler or the comparison of the rich man to the camel going through the eye of the needle, your perspective on money will be completely changed through this series.
| | | |
| --- | --- | --- |
| Biblical View of Money – Intro | | Download |
| Biblical View of Money – Part 1 | | Download |
| Biblical View of Money – Part 2 | | Download |
| Biblical View of Money – Part 3 | | Download |
| Biblical View of Money – Part 4 | | Download |
| Biblical View of Money – Part 5 | | Download |