Defending Against Spiritual Warfare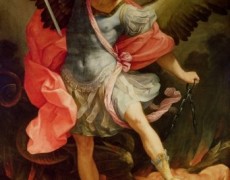 Some Christians blame everything on Satan, while others deny that he exists and think that our sin is the only thing that makes this world so tough to live in. Somewhere in the middle of those two extremes lies the truth about spiritual warfare and our call to be part of the battle. What is the battle really about?
What exactly is our role in the battle?
Why does Paul command us to put on our spiritual armor? How can we affect the outcome? Who is Satan, and where does he come from? Why does God allow Satan to continue to operate, unchecked? Can we confidently say that everything is created for the Glory of God, even when Satan is a created creature?
What is Satan's strategy, and why does he continue to fight even after Jesus won the victory?
| | | |
| --- | --- | --- |
| Defending Against Spiritual Warfare – Part 1 | | Download |
| Defending Against Spiritual Warfare – Part 2 | | Download |
| Defending Against Spiritual Warfare – Part 3 | | Download |
| Defending Against Spiritual Warfare – Part 4 | | Download |
| Defending Against Spiritual Warfare – Part 5 | | Download |