Stewardship – An Update To Our Money Series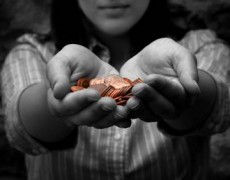 Year after year, surveys reveal that Christians give little or nothing to Kingdom causes. In contrast, Jesus makes the incredible claim that "any of you who does not give up everything he has cannot be my disciple." How can we reconcile our refusal to comply with Christ's ethic of generosity and productive use of our talents with the fact that so many of us live entirely for ourselves? In this series that updates our original series on Money (found here), we examine the role of Stewardship, and look deeper at this crucial relationship we have with Jesus concerning money and our possessions.
We also take on the traps that prevent us from being good Stewards: materialism, debt and living for ourselves. Why is it that we as a people are not generous? What right does Jesus have to make such a radical claim to what we have? How can we give up everything and still live in this world? What warnings does Jesus have for those who do not take our role as stewards seriously, who remain idle, or who refuse to use our possessions for His priorities?