The Purpose of the Local Church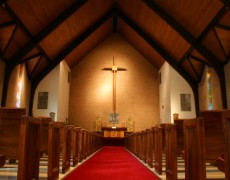 Forget about getting ring-side seats to a UFC or WWF championship match. If you want to see a real wrestling match break out, try convincing a group of young adults that they should attend a local church. After all, if every Christian is part of the universal church, what's the point in being committed to a local church body? Are Christians really worse off if they are not involved in a church? Couldn't a group of Christians just get together to hang out and call that a church?
In this series we lay out the case that Christian discipleship was always meant to be lived out in the midst of the local church. We work to identify the core purposes of the local church, and tackle a host of questions that were submitted by the participants at the start of the series. We also take some time to hear about some of the ways that local churches miss the mark when it comes to living out the mission of the church. As always, we end up learning more about ourselves and the issues that underlie our beliefs as we tackle the skepticism that many young adults have about the local church.