Why Does God Allow Suffering and Evil?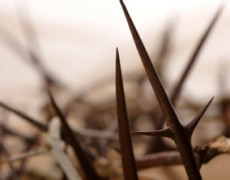 Christians and Non-Christians alike cite this question as the biggest hindrance to their faith. Far from being a philosophical inquiry, when suffering befalls us, we are tempted to question the very existence of God. Reading through a large number of writers and theologians who have tackled this subject, we examine the answers that clearly fall short, while struggling with the various (and often surprising) views that are presented by the Biblical writers. If God knew humanity would fall, why give us free will or even create us in the first place? Can we really blame free will for so much suffering?
What about suffering that can't be explained by free will, such as natural disasters, illnesses, and tragic death? Does God cause suffering, or does He merely allow it? Why doesn't God intervene to prevent suffering? How do we understand God's love, grace and mercy when contrasted to His discipline and punishment? Do views about God's limited power or knowledge resolve the problem or do they create even more problems?
| | | | |
| --- | --- | --- | --- |
| Why Does God Allow Suffering and Evil? – Part 1 (Introduction) | | Download | PowerPoint |
| Why Does God Allow Suffering and Evil? – Part 2 (Role of Free Will) | | Download | PowerPoint |
| Why Does God Allow Suffering and Evil? – Part 3 (Natural Evil) | | Download | PowerPoint |
| Why Does God Allow Suffering and Evil? – Part 4 (Biblical Perspectives) | | Download | PowerPoint |
| Why Does God Allow Suffering and Evil? – Part 5 (Recap / Responding to Suffering) | | Download | PowerPoint |
| Why Does God Allow Suffering and Evil? – Part 6 (Answering Questions) | | Download | PowerPoint |
| Why Does God Allow Suffering and Evil? – Part 7 (More Answers / Closing Comments) | | Download | PowerPoint |