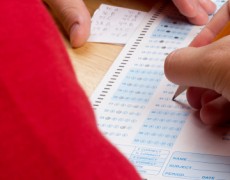 I was recently listening to the keynote address at a large conference. The speaker was really enthusiastic about our collective obligation to help the "least of these," urging those of us who had been given so much to be responsible to give back even more.
If you've been around the church-celebrity-conference culture for any length of time, you've probably sat through many of these talks as we attempt to inspire total strangers into action before we return to the city that we're from. These kinds of talks are popular around conferences where the environment pushes us to frenzied hope, but where the attenders are left with hardly a tool to turn their emotional high into something that could be tangibly lived out.
But I can guarantee that no matter how many conferences you've been to, you've never been to the type of conference I am talking about. This wasn't a church growth conference. It wasn't a missions conference. In fact, it wasn't a Christian conference at all. It was a conference of 1500 lawyers gathered in a large ballroom as part of a bar association dinner. And the speaker was trying to inspire attorneys to action, urging them to help by volunteering in pro bono programs helping indigent defendants.
How does a room full of 1500 attorneys, with the vast majority of them having little or no religious background, end up hearing a message themed around "the least of these?" Was the speaker a closeted Christian who was borrowing heavily from his faith tradition? Was he seeking to spread the "common good" to the world around him?
Not at all. The speaker wasn't even a Christian. Yet there I was, sensing that familiar high, wondering if he had just downloaded an old sermon and replaced the words "feeding the poor," "clothing the naked," "visiting the incarcerated" and "healing the sick" with "pro bono legal services." If I hadn't occasionally looked around the room to make sure all the other uptight attendees were still seated next to me in their expensive suits, I might have forgotten I was in a hotel banquet hall with hundreds of other lawyers instead of that uncomfortable break-out session that's become so vogue at Christian conferences.
Let's not miss the point. There is absolutely nothing wrong with — and a lot right with — serving indigent defendants or any person who cannot afford legal services. I see this daily, where even people with substantial means are swept away by the unjust costs of our out-of-control judicial system. The crushing outlays required by our legal system are an absolute travesty, one which we can address in more detail another time. There is also nothing wrong with seeking the common good for all, especially where we can bring justice to those most vulnerable as part of our service to Christ.
But what seemed wrong was how the entire message felt plagiarized from its Christian context. The content of the speaker's message was too close for comfort, as if it were knowingly lifted from the text of a Sunday sermon and sterilized of any religious content. Here on display in the banquet hall was Christianity stripped of Christ Himself, an example of our ever-expanding belief that we can live moral lives – even reach for the best in all of us – without any reliance on God or His kingdom.
On the positive side, you could say that the legacy of the Christian ethic has seeped into the culture around us. But a more cautious view would identify how rapidly God's mission is being borrowed and secularized in an effort to do away with God entirely. This trend should give pause to those of us who are tempted to think that we can witness through our actions alone. It's become quite popular to take that stance. In the absence of real conviction in our faith, or perhaps in the face of our own significant questions, we resign ourselves to doing the work of God while we wait for the fog of doubt to burn off. It's not a particularly effective way to address the root issues surrounding a crisis of faith, and it has a decreasing chance of pointing others to Christ.
What is God's work if not done in the name of the Lord? Would we be any different than the Peace Corps? Could we out-give the Bill & Melinda Gates Foundation? Could we distinguishing ourselves from any number of non-governmental organizations or non-profits, or even religious groups such as Jewish or Muslim charities? Are we able to do anything for indigent defendants needing representation that this bar association wasn't already providing?
For too long, we've been taught that if we just get busy doing good in the world, people will figure out that Christ is the Lord. But if we are truly to be ambassadors for Christ, we have to do what ambassadors do: speak on behalf of our Master, and act only in His name. Deeds alone are not going to cut it because the rest of our culture has moved on, copying the very types of good deeds our society has decided to value for the moment, while working hard to leave Christ out of the equation.
If you want to make a "difference," then do everything in the name of Christ. As Colossians 3:17 says, "And whatever you do, whether in word or deed, do it all in the name of the Lord Jesus, giving thanks to God the Father through him." Acting openly in the name of Jesus Christ and speaking to others about Him while we do those things would certainly stand against the torrential flow of our modern-day culture. Now that would be different.