Lot's More on Discerning God's Will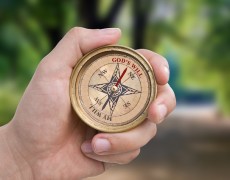 In my previous blog post, I mentioned that I am going to be posting some of the sermons that I've taught as part of the teaching team at NewSong Church.  While these sermons aren't quite as interactive as our podcasts from the Interactive Forum, we do allow a time for Q&A at the end of many of our sermons, so you'll still get a chance to hear the interactions we've had with those who are part of the congregation.
The first series we are posting is my most recent on Discerning God's Will.  Many who are familiar with our podcasts will recognize this as one of our most popular podcasts from the Interactive Forum, and we frequently hear from our online listeners about this topic. While it might be ground that was well covered previously, this time around I explored new material and tried to re-think the subject from the ground up.  Nothing about the sermons deviates substantially from our previous series, but we presented the material in a slightly different way that provided a fresh perspective.  You can check out those sermons here.
The sermon series generated a lot of interaction at NewSong, especially in email dialogue between Sundays as I dialogued with those who had questions and honest struggles with the subject.  I hope to add several posts in the coming weeks that resulted from those interactions.
As always, you are welcome to add your own voice.  I'd love to hear from you and hear how you have processed our prior series or some of the new sermons we've added.