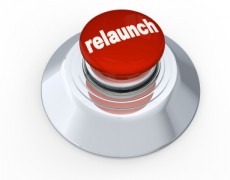 We've been working for several months behind the scenes on a new website, and if you're reading this, then you've found it.  In addition to a fresh look for the site, we've added a number of features which we will increasingly use in the months to come, including the PowerPoint slides that go along with many of the podcasts, and space to add resources such as the books that we read for a particular series.  We're also working towards transcribing each of the podcasts over time so that we can provide transcripts to accompany all of the great audio series.
Our blog is now integrated into the site.  While we certainly aren't ambitious enough to write on a daily basis, we will be using the blog to update some of our prior series and to add additional thoughts and resources regarding the subjects we've covered.  We have also included articles on the home page that explain our core values of being Interactive, Thoughtful and Faithful.  We created a new page that highlights many of the comments we've received from online listeners, giving testimony to how Exodus has impacted their journey.  And finally, the site is now mobile friendly, adjusting automatically to tablets and mobile phones so that accessing ExodusPodcasts is easier than ever.
Because ExodusPodcasts is such a unique resource, we wanted to make sure the site was as useful to those who are listening online as possible.  While there may be others who use an interactive discussion model to deepen their exploration of the Christian faith, we were blessed by God to be given the foresight to preserve each of these conversations in audio recordings.  Our new website is meant to better curate the content that we captured in all of our series, and to provide new ways for others to access that same content.
Whether you have journeyed along with us for many years, or just discovered ExodusPodcasts, we hope that you take the time to engage these podcasts.  Please share them with others who might benefit from them, and take the time to write to us to let us know about how these podcasts have impacted you.  Nothing excites us more than hearing from the people who are out there engaging these podcasts as part of their Christian journey.